Allegra Chamber Orchestra: WISH Drop-In Centre Benefit
Friday, 2 March 2018  |  Doors at 19:30, Music from 20:00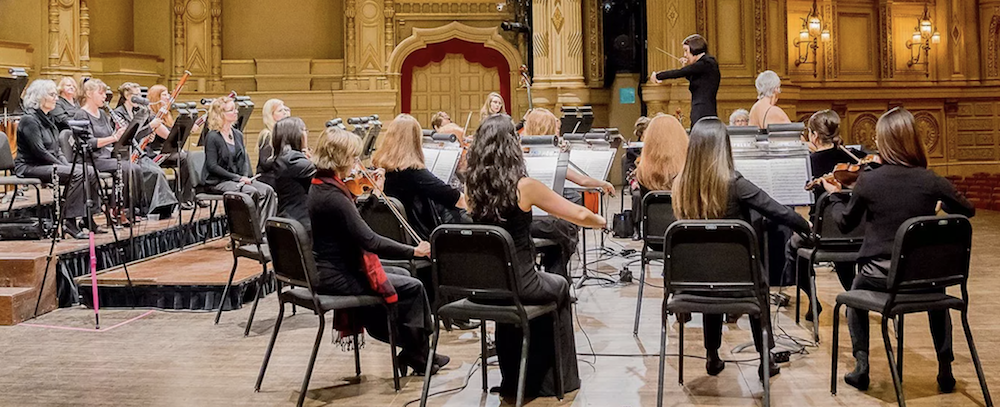 Vancouver's sensational all-woman chamber orchestra is  back at Notional Space, along with a lineup of very special guest artists, for an International Women's Day benefit concert.  Proceeds from this concert will go to Music Heals Canada to benefit the music therapy program for women at the WISH Drop In Centre on the downtown east side, which helps DTES sex-workers meet their basic daily needs.  Joining ACO will be:
Christine Bissonnette, spoken word artist
Hoang Bic, composer and Vietnamese danbau artist
Las Estrellas de Vancouver, Vancouver's all-female Mariachi band
Vanessa Richards, vocalist
Allison Cociani, soprano and composer
Saina Khaledi, Iranian Santour artist.
The concert will premiere new work by American composer Jocelyn Hagen.
As one of the first all female professional orchestras in the world, the ACO's mandate is to empower women and those who identify as women through music, maintaining the role of the artist in society to bring to light issues that need to be addressed, while provoking creative thought and solutions, first within ourselves and then in the broader context of the community at large.  ACO is directed by Janna Sailor.
WISH Drop-In Centre works to provide basic daily  support to one of Vancouver's most vulnerable communities: sex workers in the Downtown East Side.  WISH is exclusively for self-identified women in sex work. Among peers, women know that they will not be harmed or judged for the way they are currently meeting their basic needs.  In a place where they are valued, sex-working women, who are routinely denied a sense of dignity and self-worth, can begin to access opportunities to make healthier, more positive choices. They can begin to enhance the quality of their lives.
In addition to celebrating International Women's Day, this concert marks the anniversary of the music therapy program developed and implemented by ACO for WISH beneficiaries, in association with Music Heals.
Listen to the work of Allegra Chamber Orchestra (in collaboration with Ashleigh Ball).
Listen to prior work by Jocelyn Hagen.
Learn more about WISH Drop-In Centre.