BLACK DOG STRING QUARTET
FRIday, 3 MAY 2018 | Doors at 20:00, Music from 20:30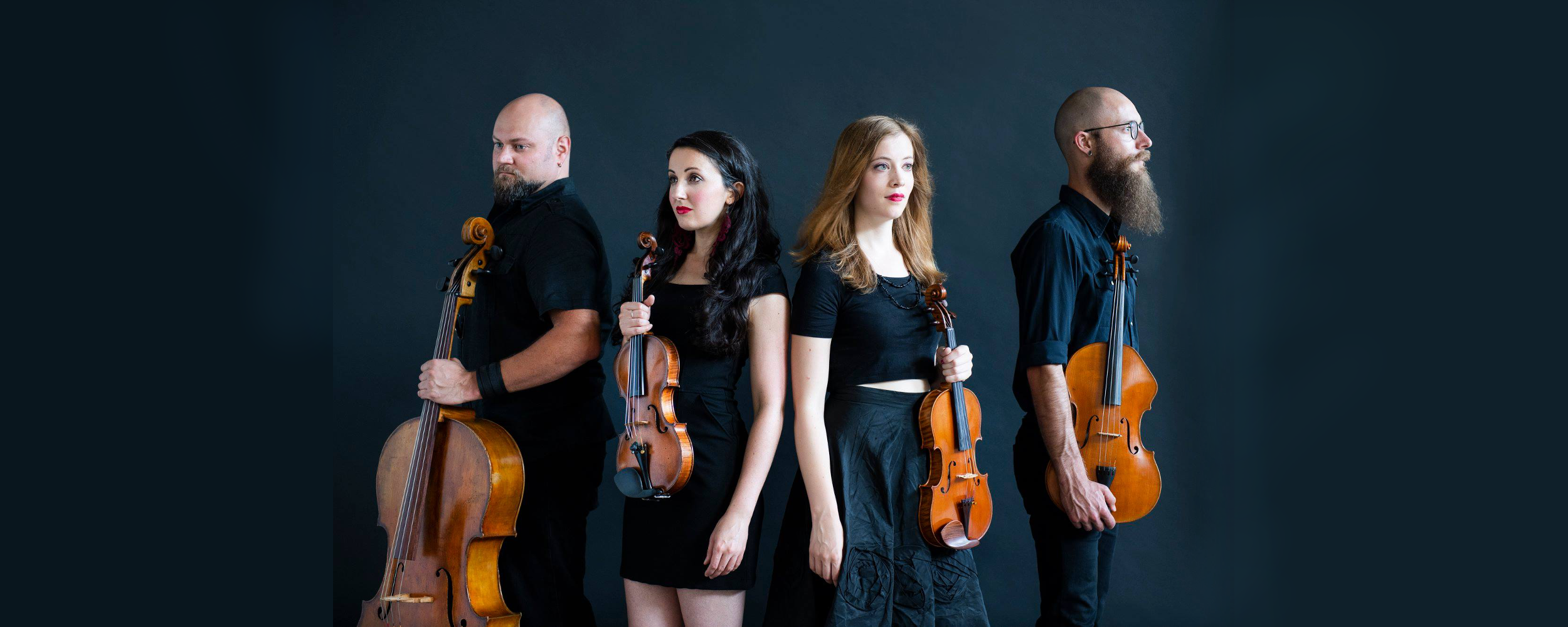 At this Notional Space performance, Black Dog String Quartet will present a premiere Vancouver performance of John Kastelic's songs for voice and string quartet, and will be joined by special guest Tony Kastelic. Erasing the lines between classical music and contemporary folk music, these latest songs sparkle with ingenuity, thoughtfulness, and lyricism. As a counterpoint to the songs, the group presents Brahms' stunning String Quintet #2.
Black Dog String Quartet
Violinists Elyse Jacobson and Molly McKinnon, Violist John Kastelic, and Cellist Doug Gorkoff comprise one of the hottest ensembles in Vancouver. Wonderfully skilled and wildly diverse, Black Dog String Quartet tackles a broad repertoire, from gorgeous chamber compositions of the European classical canon to alt-folk compositions; from modernist masterpieces to edgy interpretations of kitschy pop. This is a quartet as fun and surprising as it is virtuosic and exhilarating.
Formed in 2007, the Black Dog String Quartet is comprised of some of Vancouver's finest young musicians. The group has appeared on the recordings of artists such as 54-40, Marianas Trench, Bleeding Through, and many others. Individual members have performed live on stage with some of the world's top acts, including Rod Stewart, Kanye West, Sting, Michael Buble, Mariah Carey, The Trans-Siberian Orchestra, and Video Games Live. The quartet's excellent playing and reputation have landed them in studios with producers such as Warne Livesey (Midnight Oil, The Matthew Good Band), Dave Genn (54-40, Hedley), and Devin Townsend (Strapping Young Lad). Recent performance highlights include appearances with Tambura Rasa, Vancouver Peace Choir, and Karen Flamenco Dance Company. 
The Black Dog String Quartet performs regularly at various public and private events, including classical chamber concerts, weddings, and corporate functions, as well as on film and television scores. They've been a featured ensemble at the Sonic Boom Festival of New Music and at Classical Revolution Vancouver, and all four members play regularly with multiple regional symphony orchestras. Their solid classical background, high skill level, and collective open-mindedness set the Black Dog String Quartet apart as one of Vancouver's most unique and versatile ensembles.
Elyse Jacobson
Seattle native Elyse Jacobson began studying the violin at the age of five and completed a Bachelor of Music degree in Violin Performance at the University of British Columbia. An award-winning chamber musician, she has had the privilege of receiving mentorship from members of the Kronos, Penderecki, and St. Lawrence quartets, among many others, and was a two-time semifinalist at the Fischoff National Chamber Music Competition. She is Assistant Concertmaster of the Kamloops Symphony and has performed in symphony orchestras all over BC and Washington state. Elyse enjoys a richly diverse musical career; in addition to regular classical performances, she has also performed and recorded with such artists as Michael Buble, Rod Stewart, Kanye West, Marianas Trench, Father John Misty, Sarah Slean, and numerous others, and tours frequently with classical-crossover group Vivace.
Molly MacKinnon
Molly MacKinnon is a professional violinist and collaborative artist based out of Vancouver, BC. Molly studied with former Vancouver Opera Orchestra and CBC Radio Orchestra violinist Wendy Herbison before moving to the coast in 2008 to pursue a Bachelor of Music Performance Degree at the University of British Columbia. Together with Siminovitch Protégé Prize winning playwright Christine Quintana, Molly is the co-creator of Never The Last, a genre bending theatre show centred on the life and work of 20th century Canadian composer Sophie-Carmen Eckhardt-Gramatté. Developed at the Banff Centre for Arts, the production is next up in April 2019 at the Annex Theatre. Molly is an Artistic Associate of The Little Chamber Music Series That Could, an innovative music series with a focus on multi-arts pollination, community engagement, and local history. Molly's extensive orchestral experience includes playing with the Vancouver Symphony Orchestra, the Vancouver Island Symphony, the Plastic Acid Orchestra, the Vancouver Film Orchestra, and Allegra Chamber Orchestra.
John Kastelic
John Kastelic is an active violist, composer, and songwriter living in Vancouver, BC. He holds a Bachelor of Music degree from UBC with majors in Composition and Music Scholarship. At UBC, his teachers included Keith Hamel, Giorgio Magnanensi, and David Harding. His past and present performing projects traverse a wide musical landscape and include classical music, contemporary fiddle, chamber pop, jazz, experimental metal, and Balinese gamelan. As a freelance violist he has performed with internationally celebrated artists including Mariah Carey and Michael Bublé. He has composed and arranged music for concert, theatre, film, and the studio. With his brother and fellow violist, Tony Kastelic, he leads the fiddle folk rock band Salt Thief, which has gained a reputation locally and across the country for their songwriting and their virtuoso, high-energy performances.
Doug Gorkoff
Born and raised in Vancouver BC, cellist Doug Gorkoff enjoys an active career as a performer, educator and session musician. Doug is a founding member and principal cellist of the Plastic Acid Orchestra and performs with many ensembles across BC including the Kamloops Symphony, Vancouver Island Symphony and several theatre productions. He began studying with his Grandfather at age five and continued private studies with members of the Vancouver Opera and Vancouver Symphony Orchestra. Doug's diverse musical interests and creative flexibility have provided opportunities to record with 54-40, Tambura Rasa, Strapping Young Lad, Marianas Trench, Devin Townsend and has collaborated on several movie scores and TV soundtracks. He's been fortunate enough to perform alongside many notable acts including Sting, Trans-Siberian Orchestra, Father John Misty, Veda Hille, Dan Mangan and has performed at major festivals including the Vancouver International Jazz Festival and Shambhala.
Preview the Music
Artist Website