ILLITERATTY
SUNday, 5 MAY 2019  |  Doors at 18:30, Music from 19:00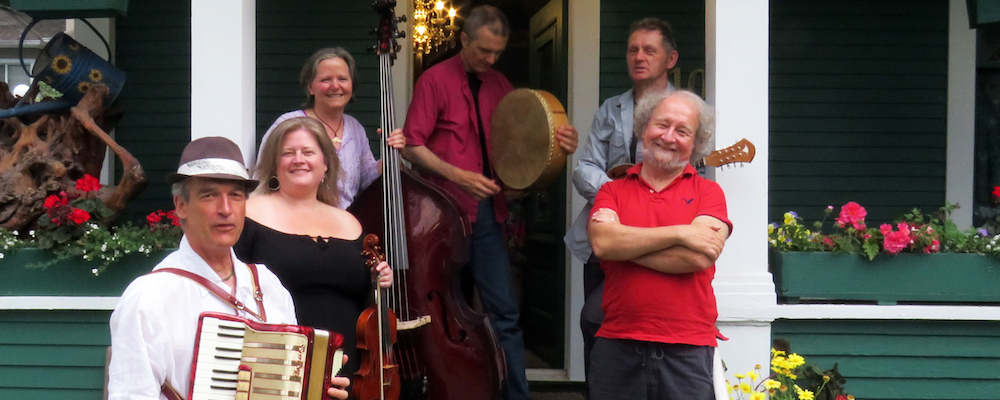 Illiteratty is a Vancouver folk band which plays metafolk…meaning, original swing, european cabaret, ambient, celtic, rockabilly, a cappella, folk, world, pop, (did I mention folk?); with sharp lyrics and up to 5 part vocals. The instrumentation is from 3 to 6 people…full complement is guitar, mandolin, violin, keys/accordion, standup bass & small percussion. It's funny, angry, idiosyncratic, intelligent, and extremely varied.
Earle Peach has been a fixture on the Vancouver folk music landscape for decades, playing with Songtree, Natural Elements, Ship of Fools, Flying Ship, Sudanda and countless others. He conducts several choirs, teaches a variety of music skills and creates music for film, video and theatre. Because Earle is such a prolific composer (he's probably composing something right now), he does the lion's share of the writing for Illiteratty.
w
Albert Klassen has always played whichever instrument he could get his hands on – violin, piano, french horn, bass, tuba, guitar – but eventually he found his focus, playing bass for many years and then mandolin. Albert acquired his mandolin by employing a traditional Mennonite strategy – he couldn't afford to buy the one he wanted so he built one. Here he's playing the AK3. At the rate he's cranking them out (one every two years on average) he'll be 141 years old when he builds the AK47.
Kirsten Daub began studying violin at the age of five, learning to read music around the same time she learned to read words. She must have been influenced by her parent's lp collection, a mix of classical and folk, because she soon discovered that the violin was good for more than just concertos and began playing in folk bands. Today Kirsten's ipod has everything from Bach to Bruce Cockburn to the Beastie Boys and while she listens to just about everything she always comes back to folk music.
Feeling lucky, Natalie Philp is thrilled to be playing with Illiteratty. With bass roots coming from playing in a local percussion group and the Vancouver bluegrass scene she is loving the energy generated from playing amongst these fun and generous folk.
Simon Kendall is probably best known as the goofy gargantuan keyboard player from Doug and the Slugs but that gig was a mere 15 year blip in a long career composing and producing music for film, TV and theatre. We recorded our CD in Simon's studio with Simon producing and he couldn't resist the temptation to add piano and accordion to the mix. Of course we did nothing to discourage this. Now he joins us as a special guest whenever his busy schedule allows.
Having studied classical piano since he was 6 years old, Wesley Skakun turned to drums and percussion at age 15. A year later in 1978, the Rock scene became a large part of his life. Since 1983, after completing Jazz and Performance at VCC, Wesley's musical spectrum became virtually unbounded. Performing as a drummer and percussionist with orchestras such as the Calgary Philharmonic and Vancouver Philharmonic during the '80's, Wesley has since contributed within various original based small group, theatre and experimental projects. From his view, every moment offers a place to coact.
Artist Website Preview the Music