The Burying Ground
ThursDAY, 3 May 2018  |  DOORS AT 19:30, MUSIC FROM 20:00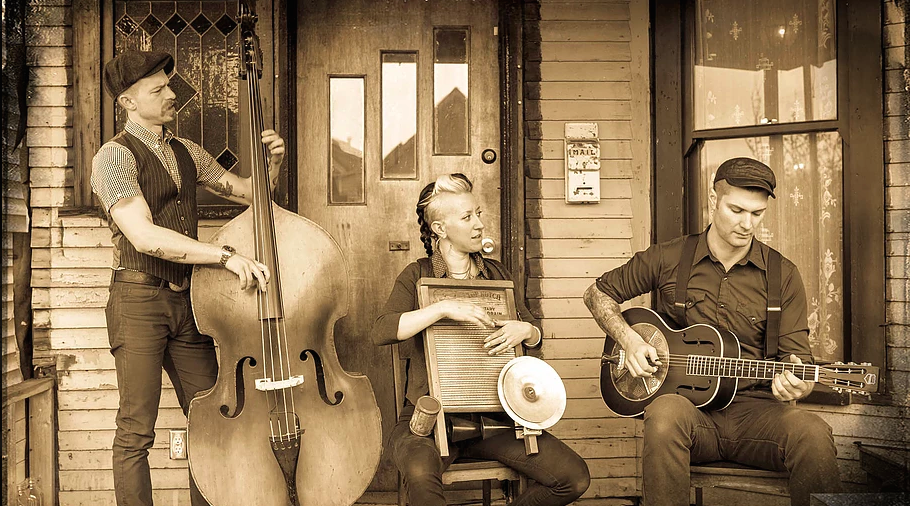 The Burying Ground formed in 2014 as a duo, but Woody Forster and Devora Laye frequently perform their tight, torchy, old-timey Americana with a complement of wonderful instrumentalists — from strings large to strings small, from trumpets to tubas.
Woody's complex blues guitar and rags are punctuated and raised high by Devora's tightly syncopated washboard, with playful rolls and staccato jumps and stops. Their solo and combined vocal styling is deeply resonant and heartfelt. Devora's sound when masterfully bowing the saw is transportive.
The Burying Ground has been charming diverse crowds, across all ages and musical tastes, in large and small venues throughout Western Canada and the United States. They lend new life to old songs also performing original tunes. Woody and Devora's songwriting illuminates the human experience that reflects the modern day, touching on mental health, the trauma of war, social justice and good old-fashioned lost and found love.  It is today's commentary on a framework of vintage music.
Their three radio-charting albums speak for themselves, all lively, true, meaningful and memorable from start to finish – Big City Blues (2015); Country Blues & Rags (2017); and The Burying Ground (2017).
This event is a fundraiser to speed Devora and Woody off on their first European tour.  Please come to generously support these great local artists.
.