ANGELA FAMA'S DEATH CONVERSATION GAME
Thursday, 30 March 2023  |  DOORS AT 18:30, Event FROM 19:00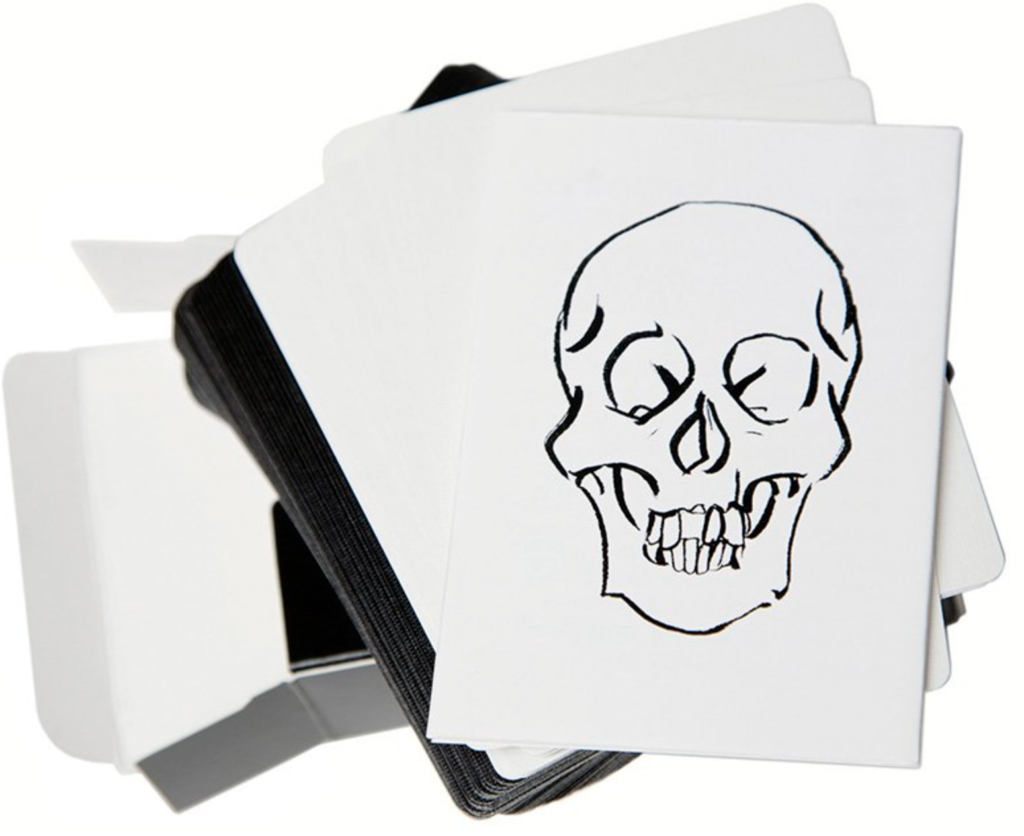 This event is a cross-disciplinary exploration of thoughts and feelings about death, starting with a musical performance by Cassidy Waring, singing candid songs about her personal experiences with mental health, grief, trauma and self-destruction, followed by a shared interactive Death Conversation Game session with facilitator Angela Fama, and wrapping up with a live healing soundscape by Faye Mallett. Grim? Not at all. It should be an engaging and fascinating evening.
About Death Conversation Game
The object of DEATH CONVERSATION GAME is to help facilitate open conversations on death in safe, respectful environments of chosen friends, family, classmates, students, clients, colleagues, and/or strangers. The depth and breadth of the conversation depends on you, and how you choose to engage with the questions and each other. Whether it's death related theology, ideology, metaphysics, bookish details, relationship considerations, bereavement, and/or a number of other subjects…
Benefits of engaging in the conversation(s) may include gaining knowledge, changing relationships, inspiration to seek answers to questions that may resultantly arise, and co-creation of new narratives surrounding death.
About Angela Fama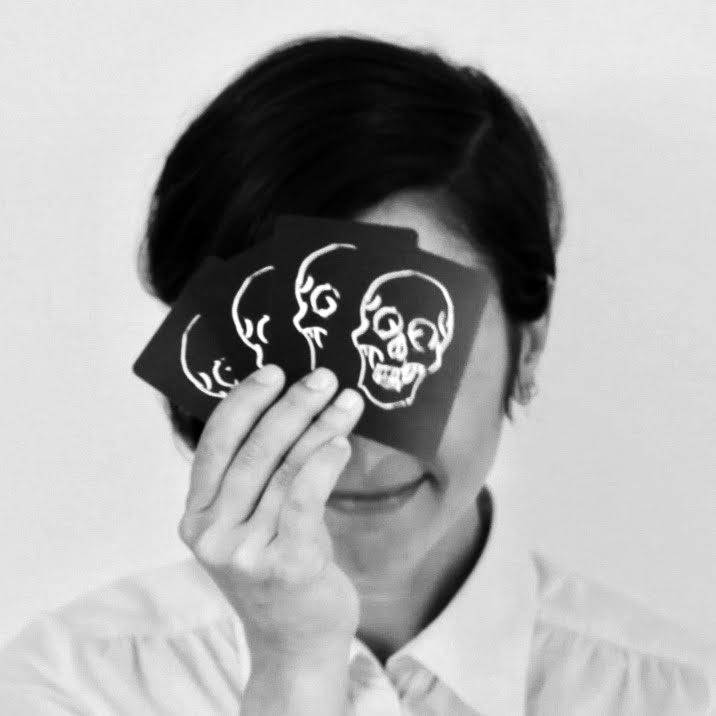 Angela explores the spaces inherently found correlating within certain dichotomies (self/other, temporal/timeless, truth/fiction, right/wrong). Resultantly, her praxis focuses on the inner and outer connections that can be made pushing at the edges of the barriers surrounding 'sticky' subjects (such as trauma, identity, love and death).
For the past 16 years, she's been integrating her life and work with social practice and community engagement, mostly through the use of interactive performance, photography, video, mixed media, and sound. To exemplify this, WHAT IS LOVE (2016) investigates individual understandings and experiences of the word 'love', MIRRORFACE (2010) examines micro-expressions portraying ideas of strength in search of autonomous belonging, IT'S A SIGN (2013) depicts spacious relics of man's imprint on nature, HIT ME (2019) exposes gendered narratives found in the lyrics of many popular songs, and DEATH CONVERSATION GAME (2019-present) facilitates open conversations on death.
Born on The Farm in Tennessee, Angela was raised in Ontario and Zimbabwe, and currently reside on the unceded traditional territories of the Coast Salish xʷməθkʷəy̓əm, Sḵwx̱wú7mesh, and Sel̓íl̓witulh Nations (Vancouver, Canada).
She works from an intersectional feminist perspective valuing equity, inclusive of all genders, sexual orientations, abilities, races, religions, and classes.
.
About Faye Mallet's Soundbath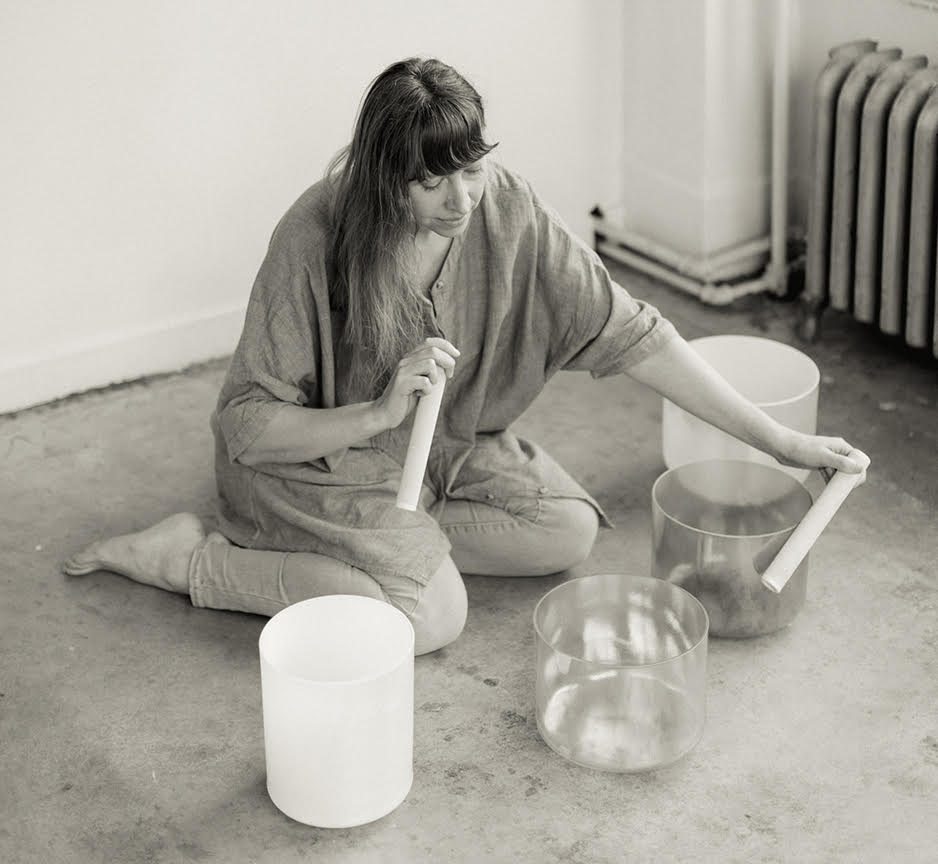 How would you like to do nothing, and feel better? That's essentially what a sound bath allows you to experience.
A sound bath is a sonic experience that will allow you to enter a state of deep rest without learning or doing any specific actions. It is something that happens to you and with you.
People often ask: What can I expect, or what will happen to me?
As both a performer and a lover of sound baths, I can speak firsthand to how people experience a sense of relaxation for days afterwards, reporting tension and pain relief as well as improved cognition, sleep and mood. It's peaceful yet powerful for mind and body.
How does it work?
Lying down or seated in a comfortable position, you'll both hear and feel the vibrations in the sounds of singing bowls, tuning forks, bells and other musical instruments. It's called a sound bath because the experience can literally feel like you are being bathed in sound.
As you tune into the sounds around you, your nervous system has the opportunity to relax and your brain waves will naturally slow and deepen. You'll enter into brain wave states known as alpha and theta, two states that transition us into the realm of dreams and the unconscious. Here, you'll experience an enhanced awareness that you don't normally have access to in your day to day life. Experienced meditators, artists and athletes reference this awareness when they talk or write about being in the flow.
By bringing you into an alpha or theta state, you can rest and feel restored.
A sound bath session offers a state of rest similar to what you may experience during deep meditation. However, in a sound bath, you will experience this rest whether you're "good" at meditating or not. There's no skill required to experience the profound effects.
.
About Cassidy Waring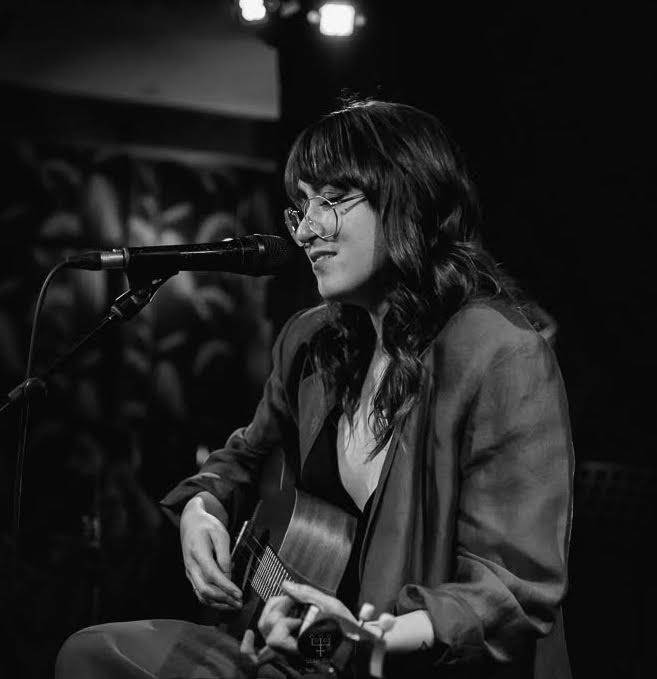 Cassidy Waring has spun her relatable challenges into dreamy Americana tunes that invite listeners deep inside with uncompromising honesty, a razor-sharp wit, and vivid remembrance. Cassidy's vulnerability on stage is an integral part of her live performance. She is a mental health advocate who speaks candidly about her personal experiences with trauma, grief, relationships, and therapy, reminding us that we aren't alone in our struggles. Cassidy worked with producer Jonathan Anderson on her debut album, "Lonesome Reunion", released in November 2021.
.