DON McGLASHAN and ANITA CLARK
FRIday, 21 July 2023 | DOORS AT 19:30, MUSIC FROM 20:00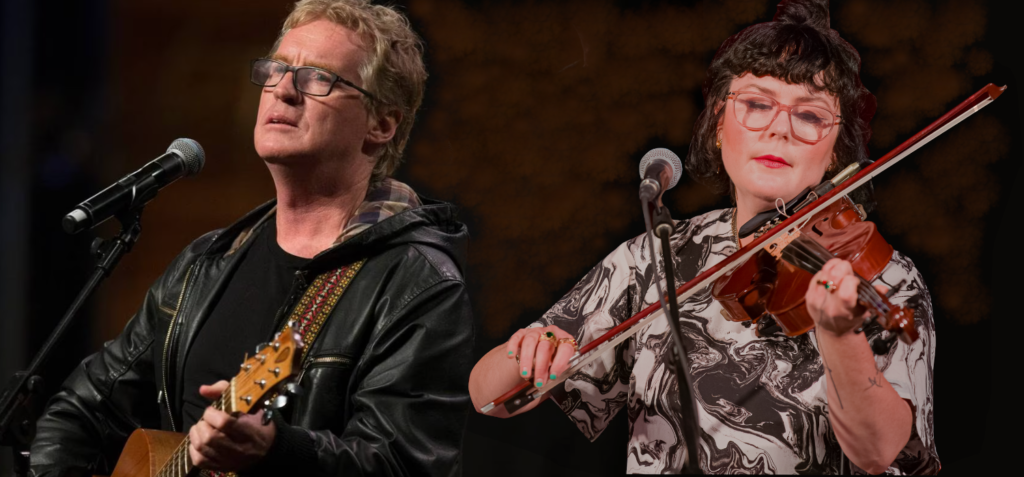 Just off the stage at the Vancouver Folk Music Festival, Kiwis Don McGlashan and Anita Clark will give a more intimate performance at Notional Space. Don, now a Vancouverite, has been a songwriting and alt rock legend in his native New Zealand for decades. Anita adds a bold, airy, ambient, deeply lyrical vibe with violin, synth, environmental samples, and voice.
About Don
Don McGlashan, founder and frontman of the iconic and internationally acclaimed Mutton Birds, is widely regarded as one of New Zealand's finest songwriters, with five entries in APRA's 100 Best Ever NZ Songs and many awards, including two APRA Silver Scrolls (NZ's top songwriting award.)
Based in London for four years in the mid-to-late '90s after signing to Virgin UK, The Mutton Birds were described by Q Magazine as coming "from the same cerebral power-pop mother lode as Big Star and early REM", and hailed by legendary US publication Trouser Press as making "sparkling guitar pop records" that combined "the dramatics of moody Australians like the Go-Betweens and the Triffids with the pure pop craft of Split Enz and Crowded House". In 1997 The Mutton Birds joined The Tragically Hip to tour across Canada as part of their "Another Roadside Attraction" extravaganza, and they also opened for The Hip several times in the UK and Holland during that period.

After London, McGlashan returned to NZ, and released his first solo album, Warm Hand (2006), to gold sales and wide critical acclaim.
The same year McGlashan's soaring gospel song "Bathe In The River" (APRA Silver Scroll winner 2006) was recorded by Hollie Smith. It went on to become one of the biggest NZ singles of all time and has recently had a resurgence via the Māori language version, 'Kōrukutia', released in 2021.

McGlashan hooked up with old friend Neil Finn in 2008, touring the USA and Europe with Crowded House as both their opening act and part of their extended onstage line-up. In 2009, he took part in Finn's ambitious Seven Worlds Collide live and recorded project alongside Johnny Marr and members of Wilco and Radiohead.

The Mutton Birds reformed for sold-out shows at home and around the world – including a London homecoming at Shepherds Bush Empire – in 2012.
McGlashan's third solo album, 2016's Lucky Stars, once again saw him make the top five on the NZ charts, and his 4th, Bright November Morning, released in 2022, went straight to No. 1 – his first No. 1 album in a four-decade career with at least one top twenty album in each of those decades.
"..the great storyteller of New Zealand music." ~The Listener, N.Z. – 2022
"Don McGlashan writes the kind of songs you can't imagine not having in your life." ~Rhythm, Australia – 2022
"Don McGlashan has a lifelong trick of making the complex direct, his finely-crafted songs unspooling like patient cinema, growing more rewarding." ~Big Takeover Magazine, New York – 2021
"Don McGlashan is one of the most complete musicians to grace this planet. Whether it's singing, songwriting, or blowing on a euphonium, Don always comes at it from his own unique angle. He's a misfit's Renaissance Man." ~Brian Ritchie, The Violent Femmes, 2017
"A masterclass in song craft… with an inner world all his own." ~Australian Rolling Stone, 2016
About Anita
Anita Clark is a violinist and composer living in Ōhinehou/Lyttelton, New Zealand. Performing under the moniker MOTTE as her solo project, she primarily uses violin, sampled sound, synth and voice. Weaving together a richly textured world and riding the thin line between beauty and devastation, she creates a world solely her own. Her sound is ambient, modern classical/cinematic, alt/experimental pop.
She has released three albums since 2015, 'Songs For Movies', 'Strange Dreams' on CocoMuse Records and most recently 'Cold + Liquid' released through Ba Da Bing! records.
Alongside her solo performance persona, Anita also composes/produces music for dancers, film and theatre. Highlights include working with James O'Hara and the Royal NZ Ballet, Malia Johnston and MOTH (Movement Of the Human), COLOSSAL and Laser Kiwi, the NZ Dance Company and completing her first feature length film soundtrack for NZ documentary 'Building Bridges: Bill Youren's Vision Of Peace'. Currently she is a member of The Phoenix Foundation, the Luke Buda band, Surfing USSR and Don McGlashan and the Others.
2015 Released 'Songs For Movies'
2016 Released 'Hobart Improvisations'
2017 Released 'Strange Dreams'
2017 Performed and produced soundtrack for 'St Bathan's Repetitions' (Montreal) by filmmaker Alexandre Larose
2017 Composed soundtrack for 'Shadows' (Sydney) directed by Eugene Dyson, premiered at Cannes Film Fest 2019
2018 Composed soundtrack for short film 'Bloom' (Wgtn) directed by Lucy Cuthbert, produced by Orion Holder-Monk
2019 Song featured in 'The Birth Of Venus' (Aus, Switzerland) directed by Melano Sokhadze
2019 Composed and Live Performance/Sound Design for Lyttelton Arts Factory (LAF) theatre show 'Our Town' directed by Mike Friend and Hester Ullyart
2019 Composition and Live Performance for 'The Sky Is Not So Different To Us' Choreographed by James O'Hara, for the Choreographic Season of the Royal New Zealand Ballet
2019 Creative development begins for 'Belle' a multimedia immersive performance by Malia Johnston, Movement Of The Human and compositional collaboration with Eden Mulholland
2019 Produced soundtrack for 'Spacedome' a contemporary dance/installation by COLOSSAL (Wgtn), for HighLight Festival, performed by Jareen Wee and Sebastian Geilings
2020 Residency at the Pyramid Club, WGTN
2020 Produced soundtrack to 'I Am All The Rooms Of The House' a RADA commissioned film by Hester Ullyart (UK/NZ)
2020 Produced soundtrack for 'Let Fall', a dance film by Jareen Wee and Jacob Edmonds for Melbourne Fringe Festival
2020 Composed and performed a live soundtrack for 'To Cut A Mermaid's Tongue' by Kyah
.