BIG BIRD BUS BENEFIT
FRIday, 18 AUGUST 2023 | DOORS AT 19:30, MUSIC + Poetry FROM 20:00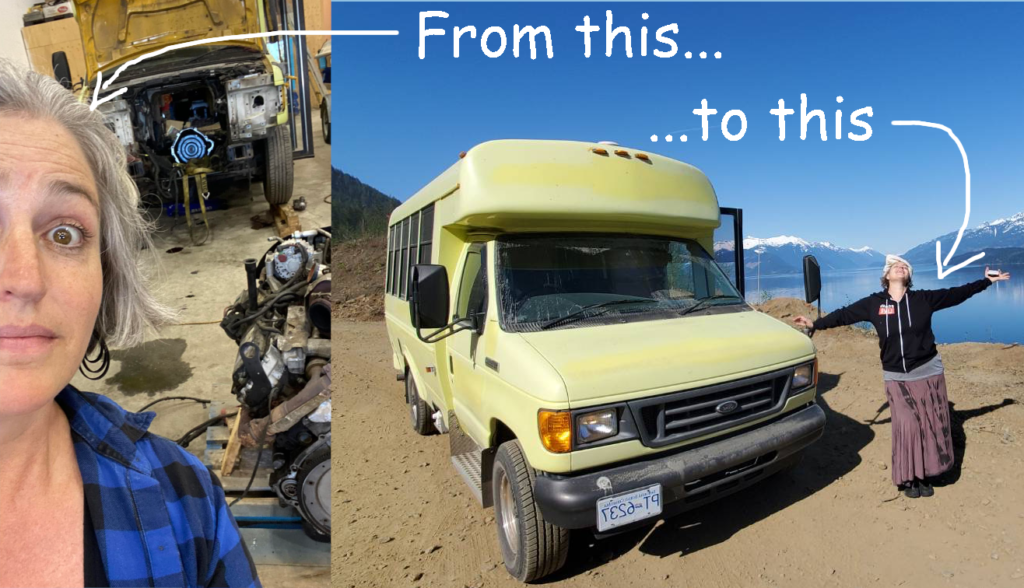 Monica Lee has a great evening of music and poetry planned for you: Arsenic & Old Lace, Marin Patenaude, Leah Nichole Barley, CR Avery, Couch Choir, Lindsay Robertson, Johnny D Trinh, Ashley Richelle, Chris Dawson-Murphy, Jesse Waldman, Bryony Ollier, Kyrst Hogan, and The Monica Lee Band!  Brad MacNeil will MC. The special occasion?  To give you a chance to help fund the recent emergency engine transplant on her big yellow bus.  Come experience how good mutual aid feels when we live in supportive community together! 
From Monica's Go Fund Me Page
Our dear friend Monica did not have the summer she expected. Her beautiful home away from home needs a new heart.
If you know Monica, you know the bus is her happy place. In the last three years since she rebuilt the inside of this 2006 Hospital Transport Bus, she has given her kids two summers they will never forget, recorded an album and experienced the joys of living on the road. This summer they were ready to do it all again adding in a Kootenay Tour.
But…back in March, while on Hornby Island doing some more recording, and finishing up the script for her play 'You, Me and The Moon', her traveling home (Big Bird) had an engine failure. Since then, Monica has been working hard to get a new heart transplant for Big Bird. There were setbacks. She, the kids and Minu the cat did not have the bus for their annual 2-week camping trip. The surgery was supposed to be completed by July 17, but there were more complications and she was only able to pick up her beloved bus during the August long weekend.
They went on tour, without the bus, without the cat. Sadly Minu died tragically while they were away.
The bus' heart transplant has been a big blow financially and emotionally for our dear friend. A fundraiser show has been organized on August 18, but for some of you (us) who are not able to attend the show but would like to contribute, here's our chance.
Monica created a truly unique space for her family. Like everything she does, she put her heart and soul into it. It was too much to walk away from and a big expense to get Big Bird a new heart.
Every little bit helps. Managing the next few months will be tricky for her. As Monica is a selfemployed musician, this is a lot of $ to put out all at once. This fundraiser is desinged to cushion the blow and help her get through the next little while.
Thank you for sharing this page and for being part of this Friends Helping Friends event. We all need a little help from our friends once in a while. Let's get this family back on the road.
.