GEORGIA HATHAWAY and THE WILDERNESS INSIDE
Sunday, 23 July 2023 | DOORS AT 19:30, MUSIC FROM 20:00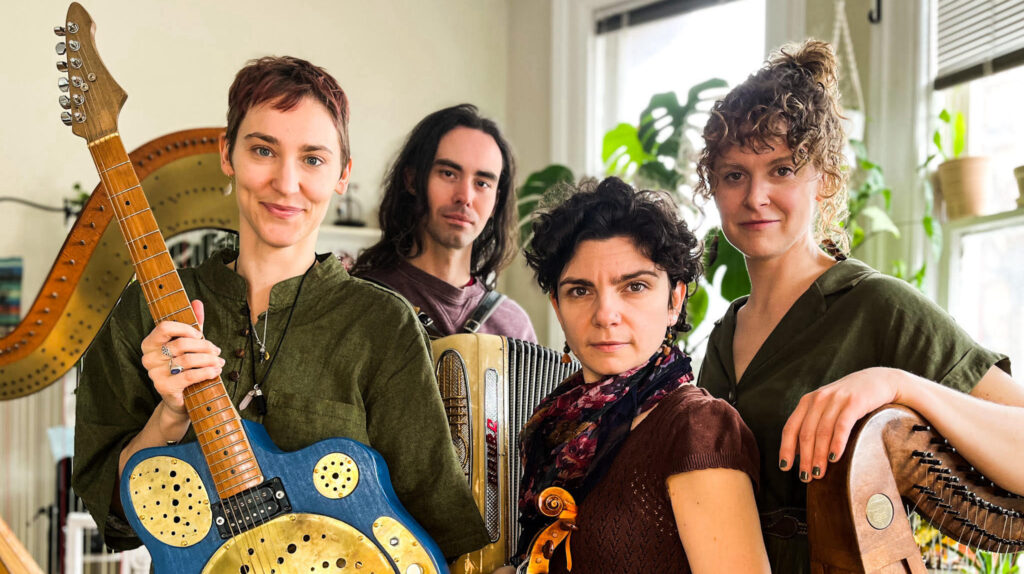 Georgia Hathaway – The Wilderness Inside
Inspired by the wild places, both inner and outer, Georgia's meditative, blues-y folk songs are at once intimate, and expansive. Georgia invites you into their world of organic expressions, weaving animal calls, nonsense syllables, and evocative lyrics. Combining delicate vocals with rootsy resonator dobro, picked guitar, and fiddle, they create a unique sound that is both haunting and joyful. Their first single, "Shape of my Feet," was released in 2020 and featured on CFRC's 'Folk Everything' Radio Show.
Recently they have joined forces with incredible musicians Kathryn Merriam (harp, vocals), Tristan Murphy (accordion, saw, vocals) and Elena Spanu (violin, vocals) to create "The Wilderness Inside."
In 2022, Georgia was the official Artist-in-Residence at the 4elements Living Arts Mobile Studio on Manitoulin Island. They have performed at the 4elements Living Arts Elemental Festival, as well as numerous venues in Toronto including the Tranzac, the Aga Khan Museum, and several Artery showcases. In addition to folk and blues, they have ventured into indie-pop territory with their most recent single and video, "Night Dancer." They have recently released a self-titled EP and are currently recording an album of new material from their Artist Residency.