A Dance Party Fundraiser Benefiting RAVEN Trust
CIRANDA
SunDAY, 26 FEBRUARY 2023 | DOORS AT 19:00, MUSIC FROM 19:30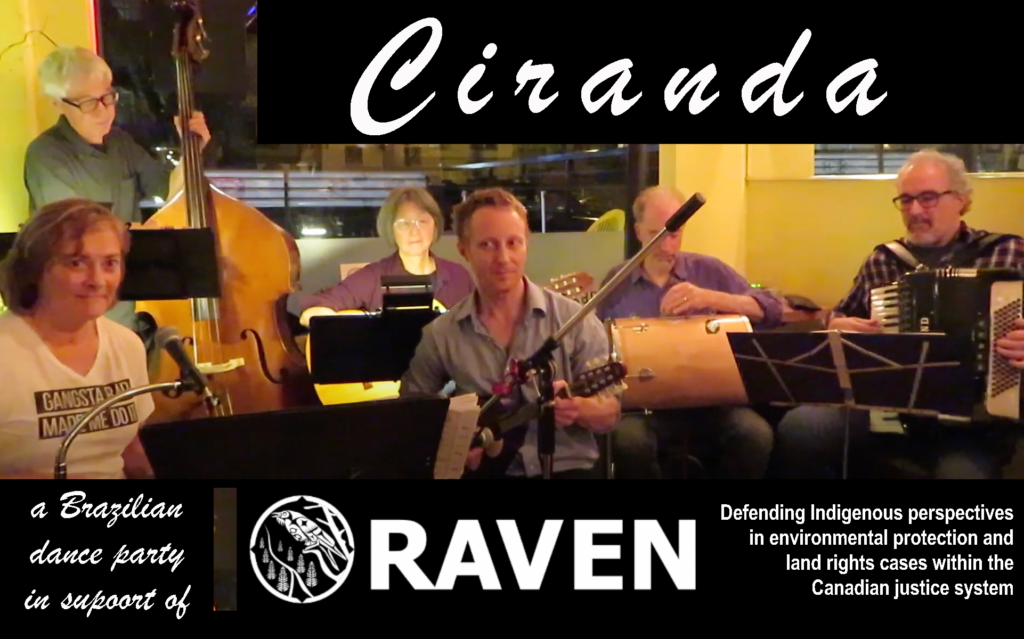 Dance to the Brazilian rhythms of Ciranda in support of RAVEN Trust, which defends indigenous interests in environmental and land rights cases within the Canadian justice system. Ciranda plays the hottest, coolest choro, forro, samba, bossanova, and more. Shake it for a great cause! (For those who prize booty stability during an axé, there will be plenty of seating.)
This event will be ticketed, all proceeds going to RAVEN Trust's support for Gitxaala Nation: $20 in advance, $25 at the door. "What!?!" you say? "Events at Notional Space are never ticketed!" You are almost right. We are a non-transactional, gift economy space. But since this is a pure fundraiser, and the proceeds benefit indigenous environmental activism, this qualifies perfectly as gift economy. They want tickets, they get tickets.
About Ciranda
Ciranda is a 6 piece band based in Vancouver,mix of Canadian, Japanese and Brazilian musicians. All the member fell in love with Brazilian music and we play traditional Brazilian music like choro, forro, samba and bossanova. We have been playing at local Restaurants, Brazilian consulate events, film festival in Vancouver etc. We are very concerned about environment and we have been playing for the fundraising event to protect Amazon , old growth in BC ( specially to support Fairy creek protest) and to support Raven Trust.
About RAVEN Trust
RAVEN raises legal defence funds for Indigenous Peoples in Canada to defend rights and the integrity of lands and cultures. While governments come and go, a legal precedent set in the Supreme Court of Canada is forever. RAVEN fights for systemic change. Our movement is pushing back against environmental destruction, and creating better laws.
About support for Gitxaala Nation
Gitxaala Nation has launched a groundbreaking legal challenge that aims at B.C.'s outdated Mineral Tenure Act. Currently, the province allows anyone with $25 and an internet connection to stake a mining claim on traditional indigenous land, without having to notify the Nation on whose territory they are prospecting. This fundraiser will support that litigation.

If you are unable to attend the fundraiser, you are welcome to join in support of Gitxaala Nation. RAVEN Trust has a page for online giving for this effort. They welcome your support and solidarity.
Dance Party Fundraiser, Benefiting RAVEN Trust
CIRANDA
SunDAY, 26 FEBRUARY 2023 | CANCELLED… Sorry about that folks!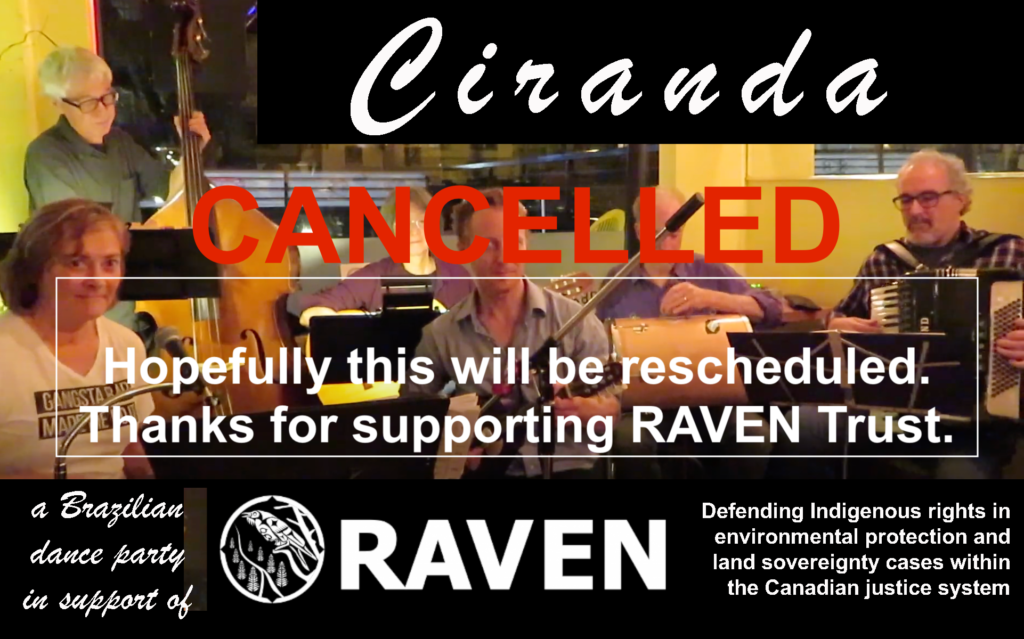 Dance to the Brazilian rhythms of Ciranda in support of RAVEN Trust, which defends indigenous interests in environmental and land rights cases within the Canadian justice system. Ciranda plays the hottest, coolest choro, forro, samba, bossanova, and more. Shake it for a great cause! (For those who prize booty stability during an axé, there will be plenty of seating.)