NAOMI ELIANA POMMIER STEINBERG
TUESday, 8 August 2023 | DOORS AT 19:30, WORDS and MUSIC FROM 20:00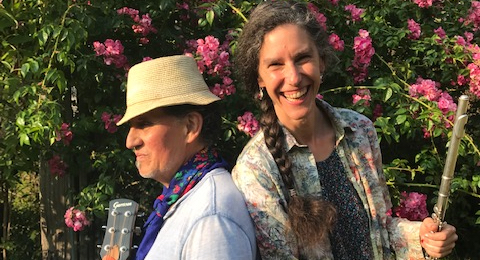 Acclaimed storyteller Naomi Eliana Pommier Steinberg is serving-up an evening of tales (tall, medium-sized, and intimate) from her remarkable travelogue, Goosefeather, which chronicles her year-long, 56,000 km flightless journey around the world. Her extraordinary adventure offers touching reminders of our membership in the global community and the ways in which the important narratives of our lives are cast just as meaningfully in familiar, prosaic contexts as in far-away, exotic locales. Naomi's stories will be punctuated with musical interludes, with Gregory Coyes's joining her onstage.
About Naomi
Born on Canada's supernatural westcoast, in beautiful Coast Salish territories, of French and Jewish descent, Naomi Steinberg is an internationally recognized artist and storyteller. She has brought traditional folk stories, fairy tales and community-based art projects to life in countries around the world since 2001.
Naomi believes that to explore a story deeply is to embark on a journey of discovery and play. Her evocative storytelling work has been covered in The Huffington Post and Plank Magazine and she has taught through organizations such as ArtStarts in Schools, MOSAIC, EcoTrust, and the European Parliament.
She uses movement, clown, contemplation, and vocal dynamics to enhance storytelling performance or workshops, all while encouraging awareness of the planet, intercultural sensitivity, and the inclusion of diverse learning styles.