MONICA LEE + SARAH WHEELER
SUNDAY, 10 NOVEMber 2019 | Doors at 20:00, MUSIC from 20:30
Do Vancouver music celebrations get better than this? Probably not. Monica Lee drops a new single and Sarah Wheeler drops a birthday. The house will rock.
.
SALT THIEF + NAOMI KAVKA
FRIDAY, 8 NOVEMber 2019 | Doors at 20:00, MUSIC from 20:30
Salt Thief is a punky, rootsy masterstroke of fun, powered by viola-toting brothers John and Tony Kastellic, and featuring Ross Christopher Fairbairn on upright bass. Prince George singer/songwriter Noami Kavka will open the evening with her deliciously matter-of-fact Canadiana folk stylings.
.
FEAST FOR THE PEACE: HONOURING THE PEACE RIVER VALLEY
SATURDAY, 26 October 2019 | 19:00 TO 22:00
A crew of young artists and anti-Site C activists travelled to the Peace River Valley in July 2019. Their intention was to offer solidarity and art for people defending the river and Treaty 8 rights. They'll share what they learned and experienced on that extraordinary trip.
The evening is a potluck feast! Bring something delicious to share. It is also a fundraiser for West Moberly First Nation's litigation to protect the Peace Valley from obliteration by the Site C dam. We encourage everyone to stand in solidarity with them.
.
CORRINA KEELING'S "BODIES OF WATER"
SATURDAY, 19 October 2019 | Doors at 19:30, Performance from 20:00
Musician, writer, and graphic artist Corrina Keeling presents a multidisciplinary project which asks questions about our origin stories across bodies of water. The show is a collection of new and ancient songs and poems from Jillian Christmas and Corrina Keeling, brought to life through music, movement, live digital painting, and voices of the community.
.
SCOTT PAULLEY: CD RELEASE PARTY
FRIDAY, 18 October 2019 | Doors at 20:00, Performance from 20:30
Join Vancouver's Scott Paulley in celebrating the release of his first solo recording, Oh My Darlin'. Scott has written for a number of Canadian bands, but generally likes to perform his songs of lost love, long nights, and endless adventure in small, acoustic settings.
Franki and Blue — Cellist Franki Lemon and Guitarist Blue Morris — will open for Scott.
.
THE ARTEMIS MUSICIAN'S SOCIETY: ON LONELINESS
TUESDAY, 15 October 2019 | Doors at 18:30, Performance from 19:00
Artemis is a performing ensemble dedicated to serving the interests of survivors of sexual violence, by featuring their professional musical talents on stage! Join Morgan Zentner, Jimin Joanna Lee, Chronfused, and Katelin Rose Coleman for an evening of music, both contemporary and classical, as they illuminate the survivor's journey from isolation into togetherness. Artemis: On Loneliness is a musical and artistic exploration of solitude, the self, collectivity, and the power of community.
.
VAN AFRO CONNECT PRESENTS: QUEST
FRIDAY, 27 September 2019 | Doors at 20:00, Film & Conversation & Live Music from 20:30
Afro Van Connect hosts an interactive screening of the Jonathan Olshefski film, Quest, documenting the courage, dignity, and inspiring generosity of a working-class, African-American couple as they struggle to nurture both their family and a community of hip hop artists in their home music studio. The film will be following by an evening of discussion and live music.
.
SAM SHOAI | ORLA SHIELDS | CÉLINE HODLER
THURSday, 19 September 2019 | Doors at 19:30, Music from 20:00
Local songwriters Sam Shoai, Orla Shields, and Céline Hodler present an acoustic evening, with styles spanning folk, rock, jazz, and indie genres.
.
LEAH BARLEY: music video release concert
Sunday, 25 AUgust 2019 | Doors at 19:00, Music from 19:30
Come celebrate the release of Leah's new music video, "Daddy". The evening will entail a performance by Leah and her backing band; violist John Kastelic and multi-instrumentalist Ross Christopher Fairbairn, a screening of the video, and Q&A with members of the cast and crew.
.
SAMBA NIGHT: Sending Cosmo on a Clowns Without Borders Mission
Friday, 23 AUgust 2019 | 19:00 to 22:00
Cosmo (aka Melissa Aston) will be joining Clowns Without Borders in Brazil to perform for indigenous populations displaced by agriculture. And you can participate in her mission of good will. By dancing with us.
To help raise funds for Cosmo's adventure, she and friends are hosting a samba party. Come hang with clowns, learn to samba, rock to the Carnival Band, and support Cosmo's good work.
More Information
.
PERFECT PITCH: a Karaoke Benefit for Good Pitch Vancouver
TUesday, 6 AUgust 2019 | 20:00 to 23:59
Karaoke: the national sport of the Philippines. Beer: the official sport of Vancouver. Together. You know you want it!
Illustrious karaoke DJ Gezelle Dee spins the [whatever-one-spins-for-karaoke] and False Creek's own Faculty Brewing pours the brainiest of beer in what promises to be the most fun Tuesday night of the summer. Don't ask your mom if you can stay-out on a "work night". Just come.
This evening of raucous song-demolition… errr… ummm… song-styling will benefit Good Pitch Vancouver, a singular organization leveraging the social impact of Canadian-made documentary films with a creativity and reach that even the filmmakers themselves frequently cannot imagine. If you cannot join us for this vocal abattoir, we urge you to learn more about Good Pitch and to lend them your most generous support.
.
TONYE AGANABA, CORRINA KEELING, and EARNEST ICE CREAM: a Benefit for Good Pitch Vancouver
Wednesday, 10 July 2019 | 19:00 to 22:00
How often do you get the warm deliciousness of Tonye Aganaba and Corrina Keeling, and the chilly deliciousness of Earnest Ice Cream in the same room? You'll have to ask Tonye and Corrina — who are, fortunately for them and us, often found in the same room — about the nature and extent of their ice cream habits. But we'd wager that YOU don't often have the chance for this tasty triple-threat.
This evening is a benefit concert-cum-pig-out for Good Pitch Vancouver, a singular organization leveraging the social impact of Canadian-made documentary films with a creativity and reach that even the filmmakers themselves frequently cannot imagine. If you cannot join us for this benefit concert (and ice cream!), we urge you to learn more about Good Pitch and to lend them your most generous support.
.
BOOK LAUNCH: Bill Arnott's Gone Viking: A Travel Saga
MUSIC: Bill Arnott and Michael Averill
Thursday, 4 July 2019 | Doors at 18:30, Music & Reading from 19:00
Join bestselling author, poet, songwriter Bill Arnott to celebrate the publishing of his new travel memoir, Gone Viking: A Travel Saga. Bill treks the globe in the wake of the Vikings, finding adventure and hilarious misadventure.
The evening will also feature live music with Bill and Michael Averill performing work from their collaborative CD, Studio 6.

.
ROBERTALANFUTUREHEARTS & TEN MOON
Tuesday, 18 June 2019 | Doors at 20:00, Music from 20:30
robertalanfuturehearts is a unique project, presented by a group of forward thinking jazz and folk musicians from West Toronto and East Gothenburg: The sound of human interaction snapped to the grid of music and language. Led by Robert Alan Mackie, Canadian double bassist and writer, their performance features spoken word poetry, free improvisation, and the rhythmic sensibilities of traditional music, combined in an immersive, wholly contemporary experience.

robertalanfuturehearts will be joined by Ten Moon. whose music places fantastical lyrics within dreamy soundscapes.
.
GEORGE FAMILY SUNDANCE FUNDRAISER
FRIday, 24 MAY 2019 | Doors at 20:00, Music from 20:30
Murray Porter, Dalannah Gail Bowen, Buckman Coe, Oceanside Dakota, and MC Ostwelve headline this musical fundraiser in support of the 2019 George Family Sundance. The George Family have been heroic in protecting the land and water in T'sleil-Watuth traditional territory. Come show your appreciation for their tireless work.
.
OLIVER SWAIN
SATURday, 11 MAY 2019 | Doors at 20:00, Music from 20:30
Oliver Swain continues his celebrated "chamber folk odyssey" — a creative, genre-bending approach to roots music — at Notional Space as he tours Western Canada. Oliver is a brilliant multi-instrumentalist, singer, and songwriter, whose music combines the erudition of an ethnomusicologist, the whimsy of a stand-up comedian, and the rousing urgency of a social activist.
.
ILLITERATTY
SUNday, 5 MAY 2019 | Doors at 18:30, Music from 19:00
Earle Peach, Albert Klassen, Kirsten Daub, Natalie Philp, Simon Kendall, and Wesley Skakun play a diverse repertoire that is deeply musically literate, drawing on diverse "metafolk" traditions and genres; and their tight instrumental interplay and complex vocal harmonies are anything-but-ratty.
.
BLACK DOG STRING QUARTET
FRIday, 3 MAY 2019 | Doors at 20:00, Music from 20:30
Violinists Elyse Jacobson and Molly McKinnon, Violist John Kastelic, and Cellist Doug Gorkoff comprise one of the hottest ensembles in Vancouver. Black Dog String Quartet will premiere John Kastelic's songs for voice and string quartet, and will be joined by special guest Tony Kastelic. Erasing the lines between classical music and contemporary folk music, these latest songs sparkle with ingenuity, thoughtfulness, and lyricism. As a counterpoint to the songs, the group presents Brahms' stunning String Quintet #2.
.
GABRIEL DUBREUIL TRIO: with Madeleine Elkins and Chad Galpin
SATurday, 20 APRIL 2019 | Doors at 20:00, Music from 20:30
Violinist Gabriel Dubreuil is an astonishingly delightful and versatile musician. If you were lucky, you caught his electrifying show here last year with cellist George Crotty. He returns to Notional Space with guitarist Madeleine Elkins and bassist Chad Galpin. Gabriel calls their instrumental bent "swing-grass"; but The Celtic Connection considers their sound to be "a hot example of Celtic music and jazz fused together by superb musicians." Come try to peg their virtuosic interplay for yourself… if you can.
.
Re:Sisters + Fraser Union + What It Is! = benefit concert for WISH Drop-In Centre
Saturday, 6 April 2019 | doors at 20:00, music from 20:30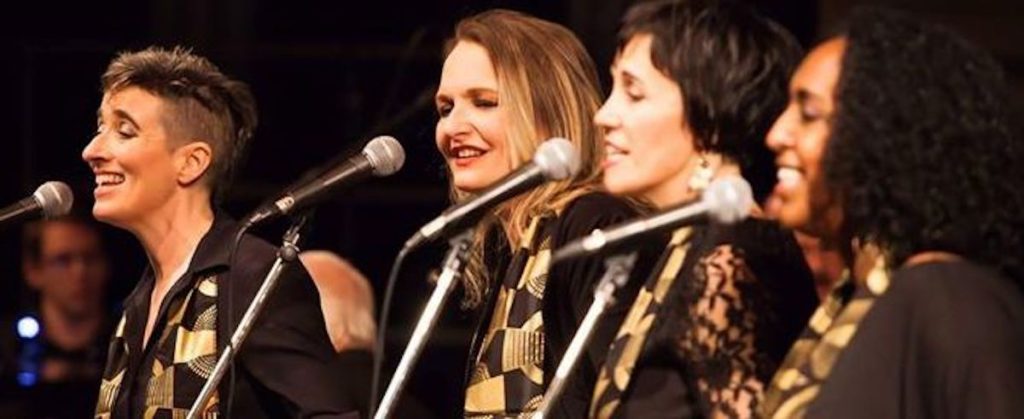 Three great groups, one great cause. Come support WISH Drop-In Centre, which helps street-based sex workers on the DTES meet their basic daily needs.
.
BONFIRE NIGHT BENEFIT FOR AUNT LEAH'S PLACE: BLUE DIRT GIRL, SARAH WHEELER, REID JAMIESON BAND
Friday, 5 April 2019 | Doors at 19:30, Music from 20:00
blue dirt girl is the latest musical project of singer, songwriter, guitarist, and Vancouver indie mainstay Kathryn Sutherland. The Notional Space show will feature Albert Klassen on bass and Jason Overy on drums, along with special guests Sarah Wheeler and Reid Jameison.
This show will be a benefit concert to support Aunt Leah's Independent Lifeskills Society, helping to prevent children in foster care from becoming homeless and mothers in need from losing custody of their children. The event is graciously co-sponsored by Luppolo Brewing Company, on tap for the evening. It will also be advanced ticketed by blue dirt girl — which is a nice way to show your support for Aunt Leah's House if you cannot attend — so be sure to check the full information at the link below.
.
MOIRA SMILEY
Sunday, 31 March 2019 | Doors at 19:30, Music from 20:00
The great American composer, singer, and multi-instrumentalist Moira Smiley will present her solo show "The Voice Is A Traveler", interweaving arresting original songs with American and European folksongs that speak of journeys and border-crossings, both geographical and metaphorical, and with stories that underscore the longing that drives the peripatetic life. Moira will be joined by special guests Rene Worst and Jen Scott.
More Information
RSVP Required
.
CITIZEN JANE
FRIday, 29 MARCH 2019 | Doors at 20:00, Music from 20:30
We love Citizen Jane. And we love the way songwriter, guitarist, mandolinist, and lead singer Reenie Perkovic and violinist extraordinaire Lea Kirstein describe their unique indie-folk sound: "Two parts daydream, one part grunge." Their debut album, "In the Storm" has received excellent notices and their live performances display both polished, sophisticated musicianship and compelling, raw emotional resonances.
More Information
.
DANIELLE KNIBBE
SATurday, 16 MARCH 2019 | Doors at 20:00, Music from 20:30
At Notional Space, we don't play favourites; but sometimes favourites play Notional Space. Danielle is, quite frankly, one of the most brilliant young songwriters in North America. Her compositions are presented in arrangements that feel simultaneously spare and lush. The offhand rawness of her gorgeous vocals are backed by intricate harmonies, always delivered with deft understatement. With bassist Connor Walsh and guitarist Bryn Besse, Danielle is touring her just-released "The Ribcage & The Heart", the follow-up to her astonishing 2016 debut album, "Some Curious Birds".
More Information
.
FUNDRAISER IN SUPPORT OF SUTIKALH AND ULLUILSC ST'ÁT'IMC LAND PROTECTORS
SATurday, 9 MARCH 2019 | 17:00 to 22:00
Come celebrate and support the defense of traditional St'át'imc territory and help to fundraise for Sutikalh and Ulluilsc camps. Many wonderful artists have either created pieces for this event or are donating existing work for auction. The inimitable Ostwelve will MC, and there will be food, drumming, and many other activities.
More Information
.
THE ACOUSTIC GUITAR PROJECT
Saturday, 17 November 2018 | Doors at 20:00, Music from 20:30

One Guitar. One Week. One Song. Six Songwriters.
The Acoustic Guitar Project is a global music platform and concert series, taking place in 50 cities around the world, that inspires musicians to write an original songs and record them in one week. One songwriter starts the cycle with Vancouver's special guitar, writes a tune, and passes it off to the next artist when their week is up. The project culminates with all five songwriters coming together for a show to share their fresh works and stories behind them. This is that show.
DISNEY MATINEE: Benefit Concert for Music Heals
Sunday, 18 November 2018 | Doors at 13:00, Music from 13:30
Kids love the songs from Disney films. Adults love the songs from Disney films. Who else loves them? Musicians do! (You know musicians: they often look like adults, but are really kids.)
In this special matinee concert, local artists — including Julia Spitale, Shera Kelly, Michael Averill, Natalie Ramsay, and many others — have worked-up covers of their favourites. So come — and bring a kid or two with you!
This show is a benefit in support of Music Heals which raises money and awareness for music therapy programs. Consider giving generously, even if you cannot attend.
DAUGHTER OF THE MOON
Saturday, 10 November 2018 | Doors at 20:00, Music from 20:30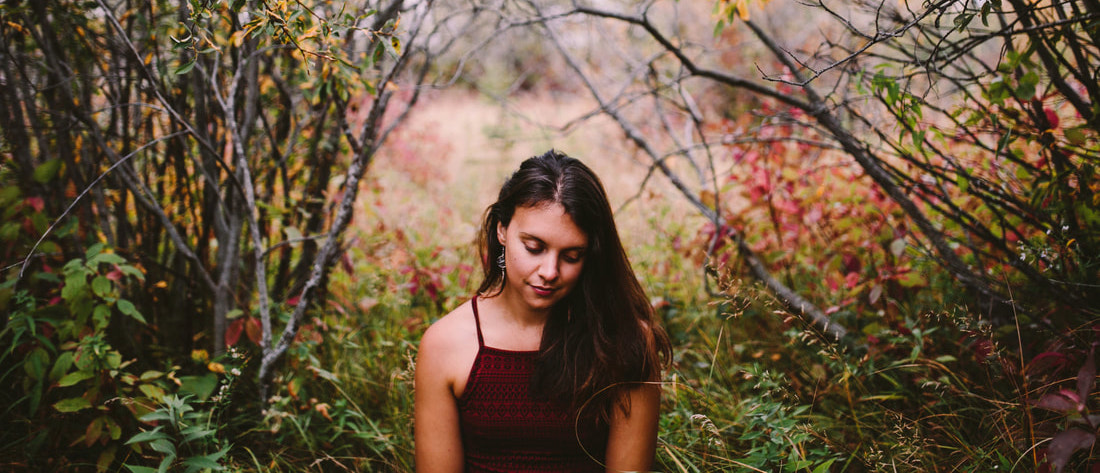 Daughter of the Moon — none other than Vancouver's sublime songwriter Natalie Ramsay — celebrates the release of her new album. Come celebrate with her.
IAN JANES
Saturday, 13 October 2018 | Doors at 20:00, Music from 20:30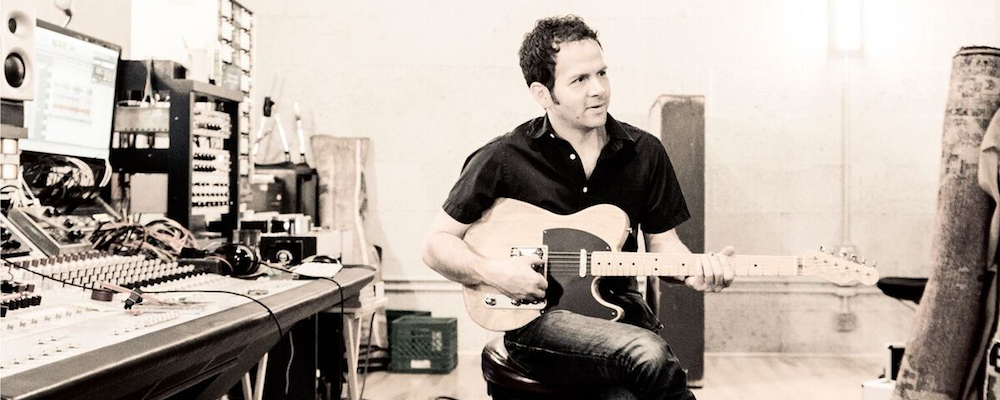 We are delighted to welcome back this great Nova Scotia songwriter. Ian's East Coast Music Award nominated album"Yes Man" has received wonderful notices from the music press, as has his latest single, "Can't Remember Never Loving You", which was originally heard in the TV show "Nashville".
Ian's performances are stunning. His exceptionally strong songwriting might fit comfortably into a country genre, but the magic happens when these gorgeously crafted songs are married with his love of delicate jazz chords and a voice that is pure blue-eyed soul.
DIEMM: "Ten Thousand Miracles" Album Release Concert
WEDNESDAY, 19 September 2018 | Doors at 19:00, Music from 19:30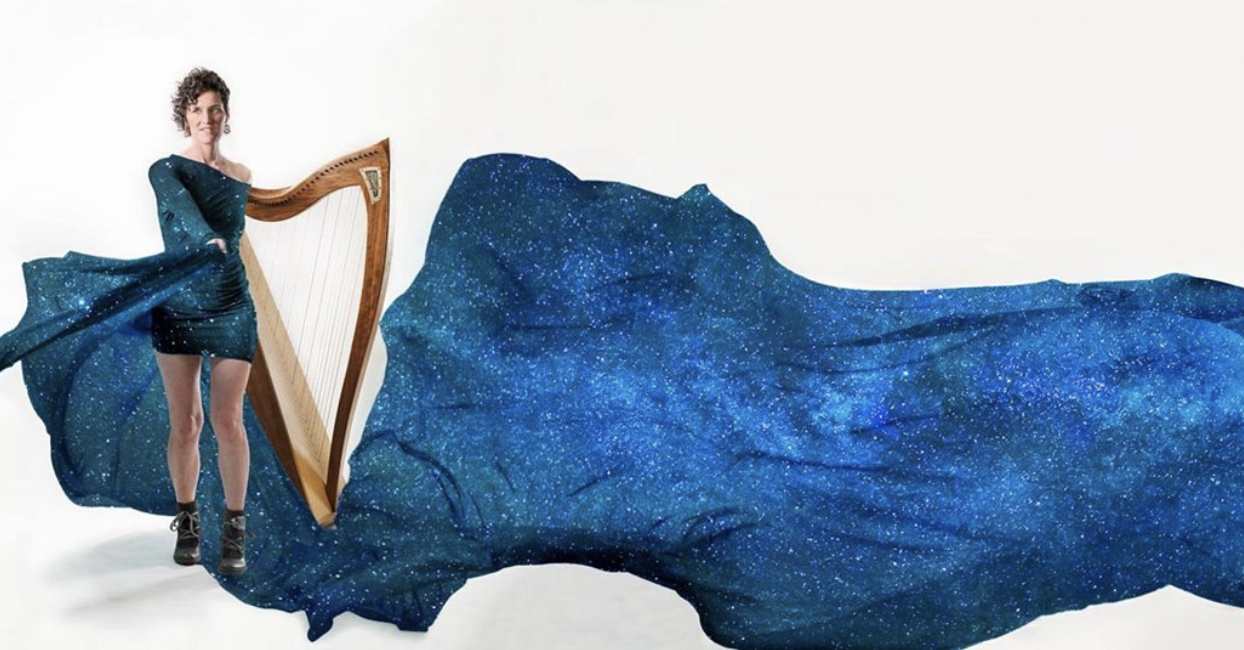 We are delighted to welcome back Diemm, the brilliantly introspective poet and Celtic harpist who played an absolutely transcendent show here in June. This concert is special: it celebrates the release of her "ethereal, neo-classical chamber folk" album, Ten Thousand Miracles. Her band will include bassist Oliver Swain and percussionist Ben Johnson.
Come enjoy the music and pick-up the new album.
ACQUA: Music for Cello Octet and Dancers
SATURDAY, 15 September 2018 | Performances at 19:30 and 20:45, Doors 20 minutes in advance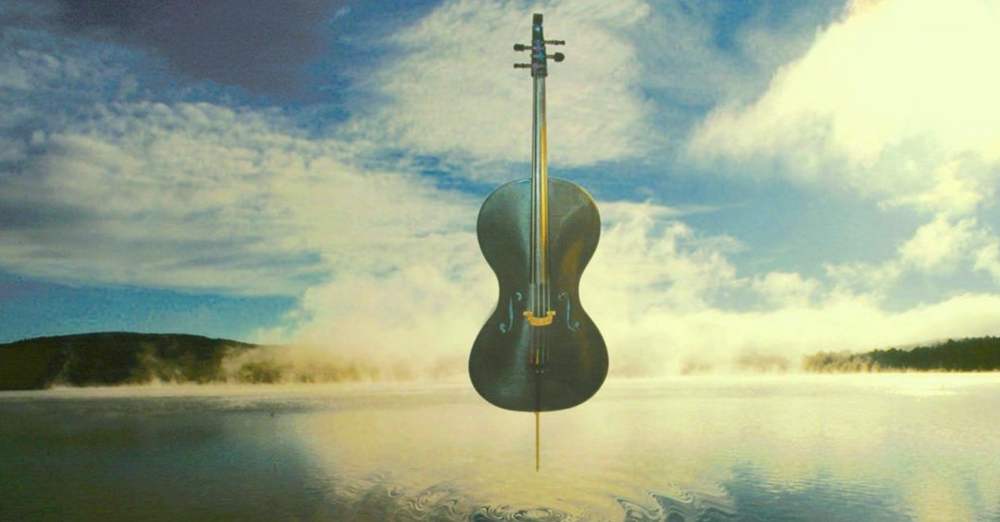 The Allegra Chamber Orchestra presents the premiere of "Acqua", by Composer-in-Residence Elizabeth Knudson. The work was conceived for cello octet and four dancers (Paula Pacheco Ribeiro, Oksana Maslechko, Alex Shigetomi, and Marie Taylor), with original choreography by Linda Arkelian. The performance is made to be viewed from above, so most of the audience will occupy the mezzanine; but there will be seating for those for whom standing would be a challenge.
Also featured on the program will be music for water percussion, performed by percussionist Katie Rife.
There will be two performances of the program one at 7:30pm and another at 8:45pm. Space is limited, so please reserve well in advance.
If you reserve a space and find that you cannot come, please cancel your reservation or advise us so your space can go to someone else.
In keeping with both the water theme and the gift economy nature of Notional Space, Allegra Chamber Orchestra will be regifting all your financial support from the evening to the intrepid Coast Protectors — so please give generously.

DON ALDER
FriDAY, 6 JUly 2018 | DOORS AT 19:30, MUSIC FROM 20:00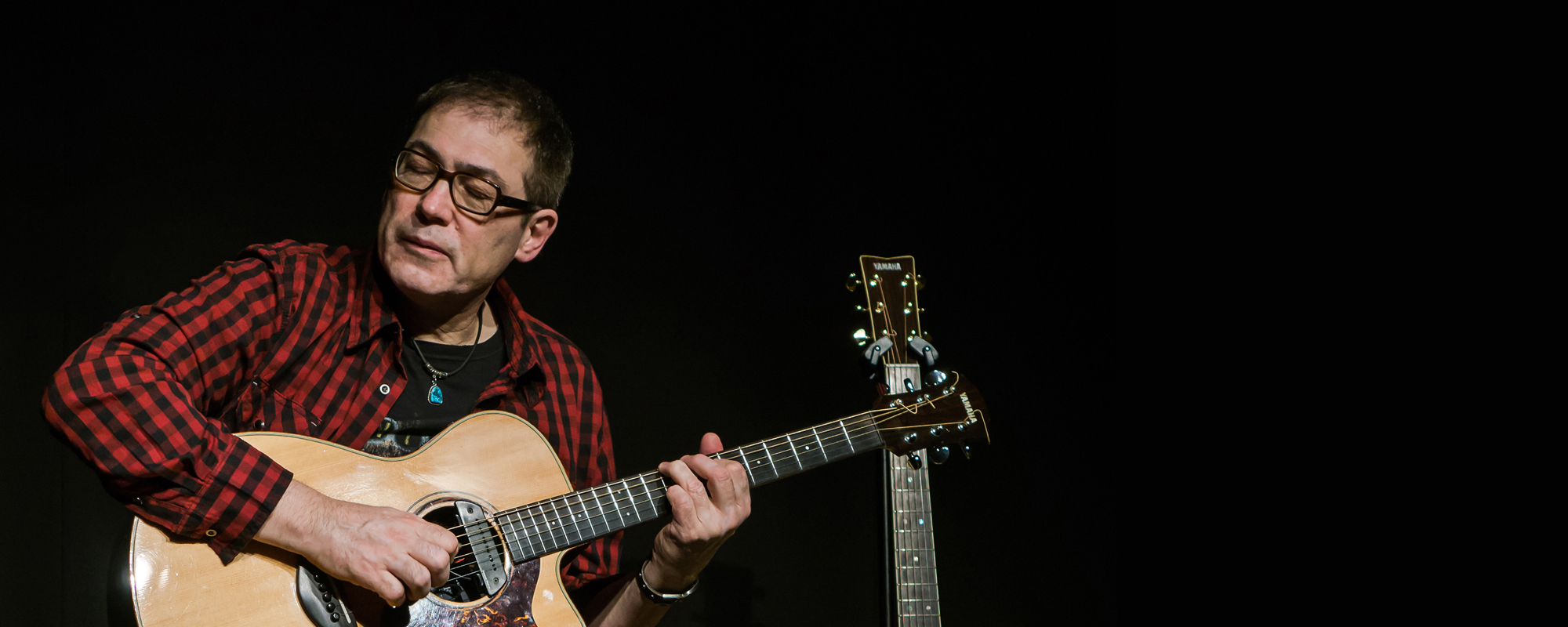 Vancouver's internationally acclaimed fingerstyle guitar legend returns home after a three month European tour to blow down our house. Don picks, strums, beats, and cajoles an orchestra-worth of sound from an acoustic guitar. Like superman, he bends steel (strings) with his bare hands.
RAHMA HADDAD'S EVENING OF MIDDLE EASTERN DANCE
Monday, 21 June 2018 | Doors at 19:30, DANCE from 20:00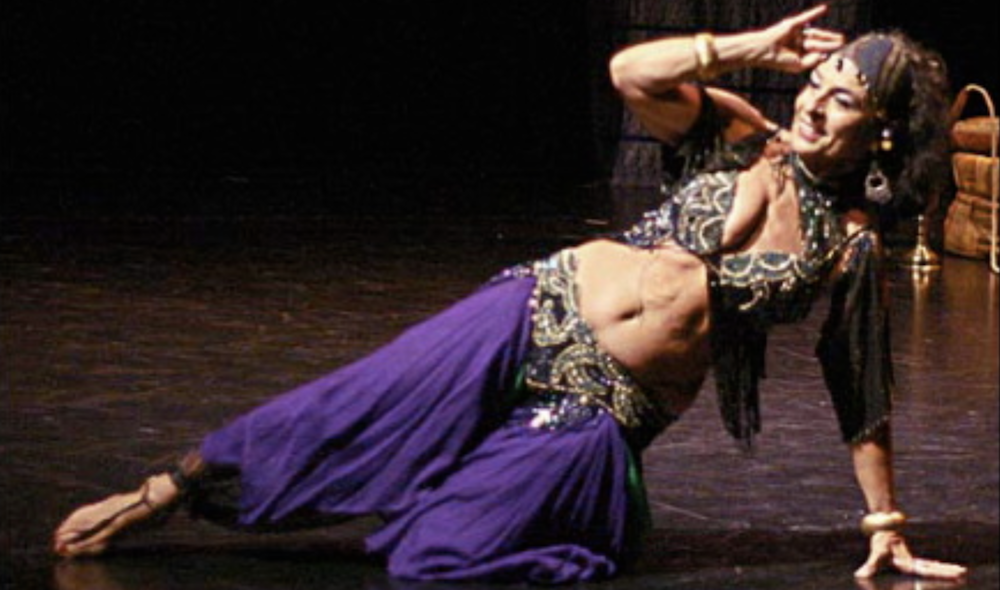 Join Rahma Haddad, special guest dancers Caroline Heleczi, Carla Naar, and Devorah (Deborah Kerr), and Rahma's students for and evening of Middle Eastern dance and music. While the dance performances are choreographed to prerecorded music, Oudist Serwan Yamolky and drummer Tim Gerwing will perform a live set of Arabic music.
IAN JANES
Saturday, 16 June 2018 | Doors at 20:00, Music from 20:30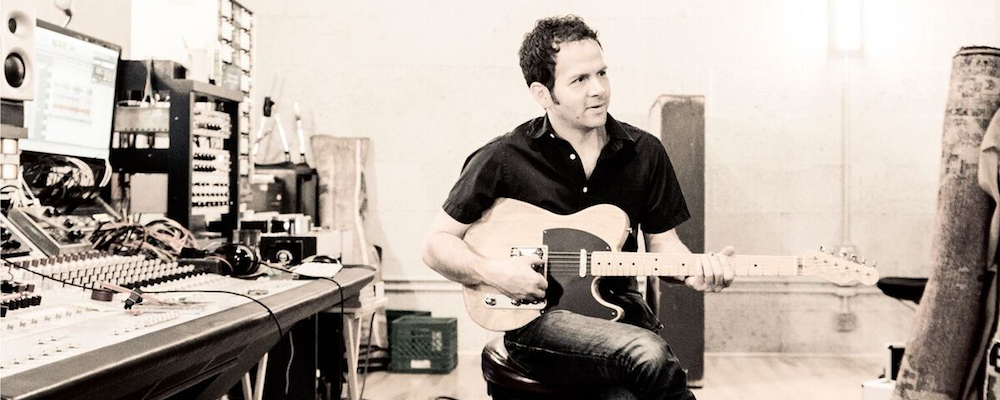 The great Nova Scotia songwriter will take a break from Los Angeles, where he is recording the follow-up to his East Coast Music Award nominated "Yes Man", to join us in Vancouver for an intimate, soulful evening.
ANNA BAIGNOCHE + ANDY TABB WELCOME BAND
SATURday, 9 June 2018 | Doors at 19:30, Music from 20:00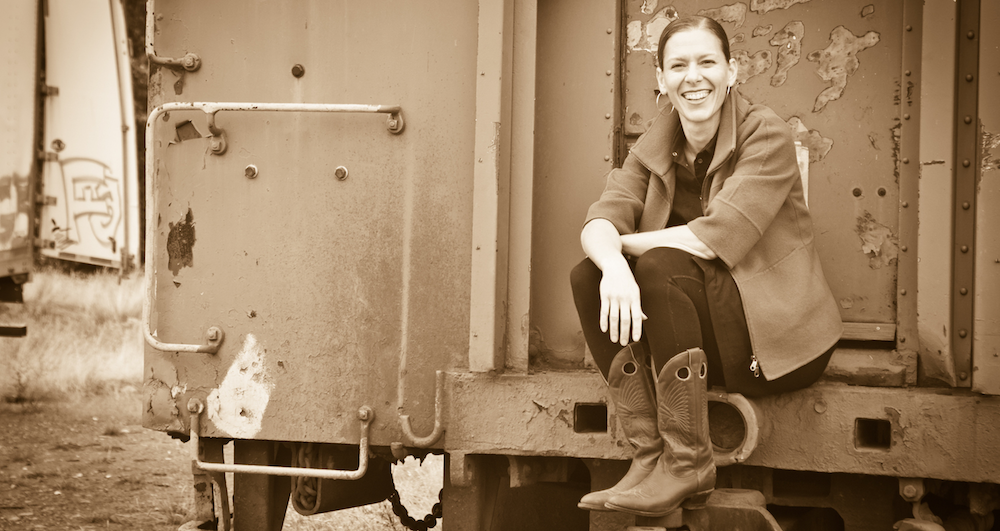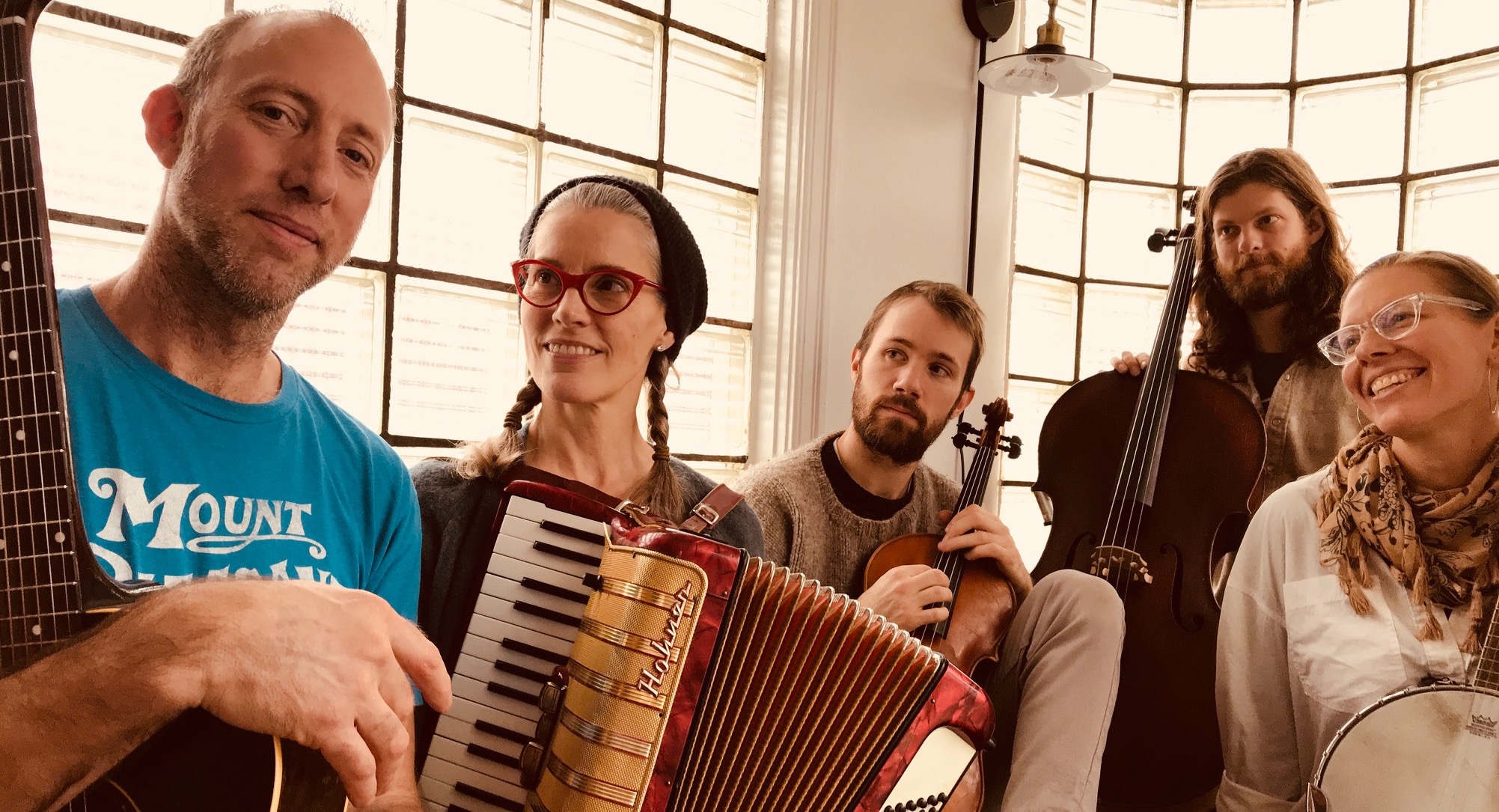 Anna B and Andy T bring their great bands and beautiful voices for a great evening of acoustic music. Anna's jazzy, folky repertoire is well-informed by her academic depth in ethnomusicology; but she plays straight from the heart. Andy writes and renders traditional-feeling Americana with great sensitivity, virtuosity, and creativity.
DIEMM + TOM VAN DEURSEN
Monday, 4 June 2018 | Doors at 19:30, Music from 20:00
What do Diemm and Tom have in common? The both call Kaslo home and they both write beautiful songs. You may know Diemm as the brilliantly introspective poet and harpist who played an absolutely transcendent show here last November. You know Tom as the guitarist and songwriter from Vancouver's The Boom Booms. The two will play an acoustic evening of original compositions and collaborations.
RAIN COAST CHOIR + JOSHUA WOOD + SINÉAD SANDERS
THURSday, 24 MAY 2018 | Doors at 19:30, Music from 20:00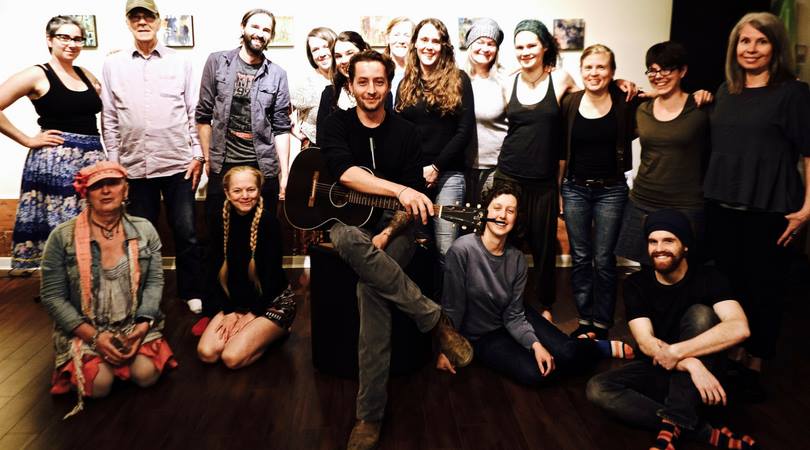 Joline Baylis directs this rock-and-roll community choir, which brings tight four-part harmony arrangements to contemporary music. Join them, along with Joshua Wood and Sinéad Sanders, for a rollicking end-of-term performance.
THE BURYING GROUND
THURSday, 3 MAY 2018 | Doors at 19:30, Music from 20:00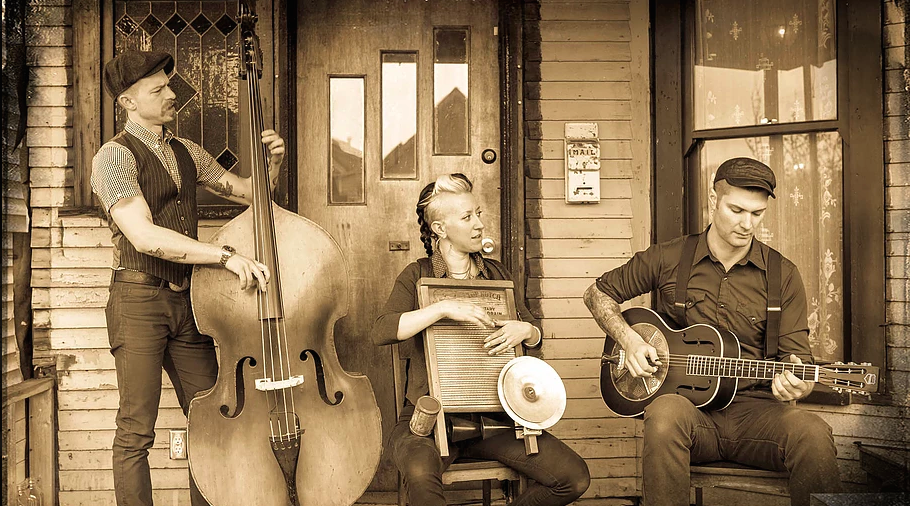 The Burying Ground formed in 2014 as a duo, but Woody Forster and Devora Laye frequently perform their tight, torchy, old-timey Americana with a complement of wonderful instrumentalists — from strings large to strings small, from trumpets to tubas. This event is a fundraiser to get them on their way to their first European tour.
EAST VAN GUITAR NIGHT
Saturday, 14 April 2018 | Doors at 19:30, Music from 20:00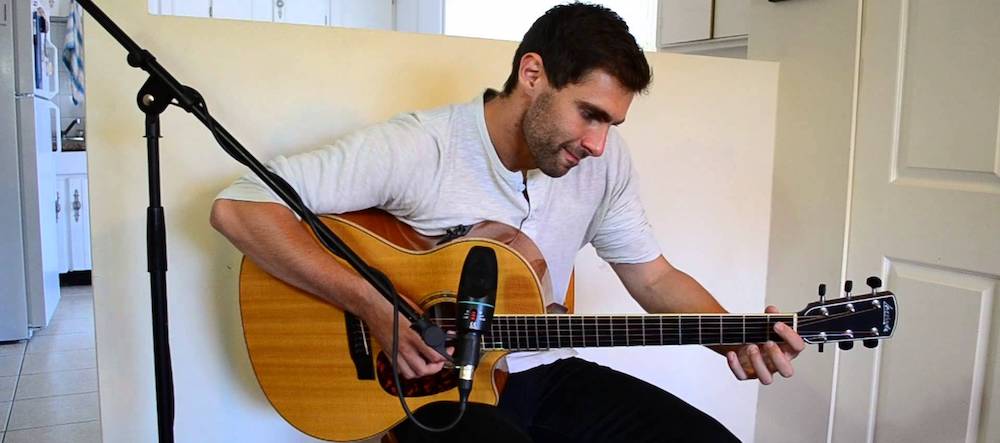 Local guitarist Alexander Flock presents a line-up of virtuoso musicians representing guitar styles from around the world. Joining Alex on stage will be Les Finnigan, John Gilliat, and Rossi Tzonkov.
LOOSE ROOTS: Gabriel Dubreuil & George Crotty
Sunday, 25 March 2018 | Doors at 19:30, Music from 20:00

Violinist Gabriel Dubreuil and cellist George Crotty met as students at the prestigious Berklee College of Music in Boston. Their music is rooted in Celtic fiddle tunes, but featuring a jazzy spontaneity and the intimacy of chamber music.
Allegra Chamber Orchestra: WISH Drop-In Centre Benefit
Friday, 2 March 2018 | Doors at 19:30, Music from 20:00

Vancouver's sensational all-woman chamber orchestra is back at Notional Space, along with a lineup of very special guest artists, for an International Women's Day concert. Proceeds from this event will go to Music Heals Canada to benefit the music therapy program for women at the WISH Drop In Centre on the downtown east side. Advanced tickets are required, as space is limited.
The
A
coustic
Guitar Project
17 November 2017 | DOORS AT 19:30, MUSIC FROM 20:00

One Guitar. One Week. One Song. Five Songwriters.
Dawna McLennan
10 November 2017 | doors at 7:30, music from 8:00
Peace Poppies present an Evening of Song & Poetry
9 November 2017 | doors at 7:30, music from 8:00
Re:Sisters + Fraser Union + What It Is! = benefit concert for WISH Drop-In Centre
3 November 2017 | doors at 7:30, music from 8:00
Farnaz Ohadi
18 Octoberber 2017 | doors at 7:30, music from 8:00
C.R. Avery
3 October 2017 | doors at 8:00, music from 8:30
blue dirt girl: Aunt Leah's Place benefit
22 September 2017 | doors at 8:00, music from 8:30
Mohsin Zaman
6 September 2017 | doors at 8:00, music from 8:30
Danielle Knibbe Trio
1 September 2017 | doors at 8:00, music from 8:30
James Stuart Ferguson Band
25 August 2017 | doors at 8:00, music from 8:30
Kate Reid
18 August 2017 | doors at 7:00, music from 7:30
Julia Spitale
11 August 2017 | doors at 7:00, music from 7:30